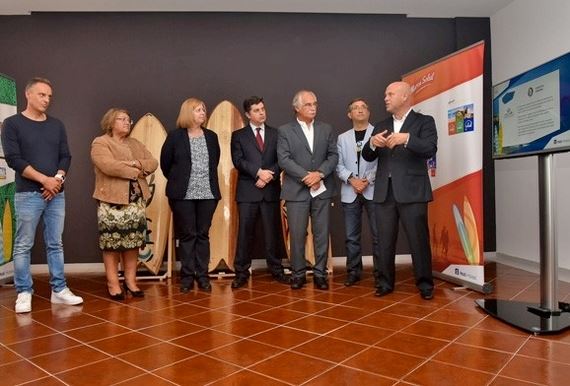 HOTEL UNIT WELCOMES ECONOMY AND MARITIME MINISTERS
SOLEIL PENICHE HOTEL WANTS TO ENTER THE WORLD SURF ROUTE
The Economy and Maritime Ministers, Manuel Caldeira Cabral and Ana Paula Vitorino, and the Mayor of Peniche, António José Correia, were at the Soleil Peniche Hotel on 17th October for the hotel's requalification project presentation, which took place simultaneously with the "Riding the Wave" photography exhibition launch, two initiatives forming part of the promotion strategy of the Peniche area as Europe's leading surfing destination and one of the best in the world.
The requalification project of Soleil Peniche Hotel was presented by the Hoti Hoteis Group Director, managing body of the hotel. According to Miguel Proença, "The Hotel Soleil Peniche, due to its geographical location and hotel conditions, intends to rank itself as a hotel of excellence in the World Surf route. For this reason, we expressed our immediate interest in being involved in the set of initiatives planned by the City Council, regarding the MEO Rip Curl Pro Portugal by presenting this requalification project that we have been developing, together with the owners of this hotel which has been managed by the Hoti Hoteis Group for more than fifteen years, and we understand it will make a great difference in the way we host guests who are interested in practicing the sport."
"Riding the Wave "was the project inaugurated by the photographers Fernando Ricardo and André Ricardo and it will be on display until 6th November. The artists presented a selection of photographs from the various World Surfing Circuit events that have been held in Peniche since 2009, in a black and white photographic record, portraying the beauty of the waves and the spectacular athletic maneuvers.
Surfing has been an anchor for the marketing of Portugal as a destination, and Peniche in particular, as it contributes the combination of unique conditions for the practice of the sport in Europe, paired with a temperate climate. Turismo de Portugal has been carrying out several projects to consolidate the country's internationally renowned status of excellence in the practice of surfing.
Established in 1979, the Hoti Hotéis group is a hotel chain with 100% Portuguese capital and is ranked as the 6th largest group with a national presence and the 2nd largest to offer hotel management services. The following hotels belong to the Hoti Hotéis universe, Meliá Braga Hotel & Spa (five stars), Meliá Madeira Mare Resort Hotel & Spa (five stars), Meliá Ria Hotel & Spa (four stars), TRYP Lisboa Oriente (Four stars), TRYP Colina do Castelo (four stars), TRYP Porto Expo (four stars), TRYP Porto Centro (three stars), Hotel da Música (four stars), TRYP Leiria (four stars), Star inn Porto (three stars), Soleil Peniche (three stars) and Costa da Caparica hotel (four stars).