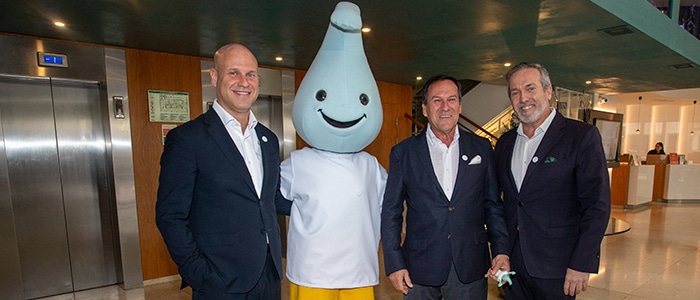 Meliá Lisboa Oriente celebrate 25th Anniversary
Last 22 May, the Hotel Meliá Lisboa Oriente, located at Parque das Nações, in Lisbon, celebrated 25 years of activity. The hotel was the first hotel establishment in the Expo'98 area, a historical milestone for Portugal. On the occasion, the CEO of Hoti Hoteis, Miguel Caldeira Proença, highlighted that the hotel was a risky bet at the time, but that it became a success. Since then, the Meliá Lisboa Oriente has undergone several renovations, including the recent rebranding.
To celebrate the anniversary of Expo'98 and Parque das Nações, Meliá Lisboa Oriente launched "Gastronomia Expo'98 – Comidas do Mundo", a themed buffet lunch that pays tribute to the 25 years of the event. Every Wednesday, from 24 May to 24 September, the hotel will present thematic lunches with dishes from different continents and each lunch sold will contribute with €1 to Fundação do Gil.
At the event celebrating the 25th anniversary of Meliá Oriente, several personalities were present, such as the Mayor of Lisbon, Carlos Moedas, the Mayor of Parque das Nações, Carlos Ardisson, and the designers responsible for the uniforms of the Expo'98 collaborators, Maria Gambina and José António Tenente, among other guests, including the very special presence of Gil, the Expo'98 mascot.
The hotel has renewed the Memórias Expo'98 website, aimed at presenting the importance and impact of this event in the city of Lisbon. It is possible to navigate through this site using the new touch screen installed in the lobby.
Meliá Lisboa Oriente, is committed to preserve the memory of Expo'98, including decorative elements that refer to the event and offer special gastronomic experiences, reinforcing its commitment to provide guests a unique stay, where history blends with contemporary comfort.