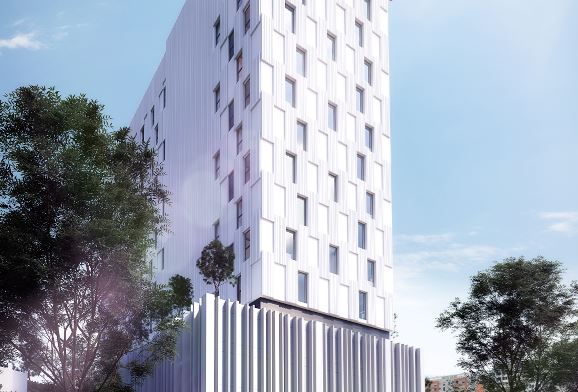 MOXY LISBOA ORIENTE
HOTI HOTEIS OPENS MOXY Lisboa Oriente IN LISBON
Moxy Lisboa Oriente opens doors on 12 July
First Hotel of Hoti Hoteis Group in partnership with Marriott International
Opening fee of 70€
 This week, Hoti Hoteis Group opened, in soft opening mode, a new Hotel in the Parque das Nações neighbourhood, in Lisbon. This is the first Hotel of the chain to operate under the MOXY brand, in partnership with Marriott International. This is a vibrant Hotel, featuring a prime location, just a few metres from the "Estação do Oriente" underground station, and around 3 km (over 1 mile) from the Lisbon Airport. Besides, it has excellent accessibility, as its proximity to Gare Intermodal do Oriente (an intermodal station) ensures access to the major means of transport. The Hotel aims to charge a special opening fee of 70€/night.
With 222 guest rooms, this hotel boasts perfect harmony between design and lifestyle. Focused on millennials and digital nomads, this three-star hotel follows the youthful and irreverent concept and decoration that are the hallmarks of the brand. It is fitted with high-speed internet services, parking, fitness centre, meeting rooms, and a reading area.  In line with the brand's spirit, lobbies enhance conviviality, and are equipped with multiple functionalities and a food court open 24/7, in order to provide guests with the maximum convenience.
At the entrance floor, there is a very original Front Desk | Bar, where you can do your check-in while having a drink in a relaxed and cheerful way. With its modern and industrial design, featuring urban art works by Akacorleone and Hell'o, this is the perfect spot to work for a few hours or to meet friends at the multiple tables and sofas scattered over the large entrance area of the hotel.
According to Miguel Proença, CEO of Hoti Hoteis Group, "MOXY Lisboa Oriente is a hotel that was developed in partnership with the Krest Group, and is the first franchise contract entered into for the Iberian Peninsula". MOXY Lisboa Oriente is part of a brand that comprises around 100 hotels worldwide, complementing the universe of the Group's brands, and responding to the preferences of a target audience whose main interests are aimed at exploring the city, socializing, and enjoying modern and affordable design. The Group has thus got a new focus, whose operation was planned to have started several months ago, but was hindered by the lack of a market in the city of Lisbon. The next few months will still cause some hardship on the city. However, we believe that recovery will start soon, and that will be a major landmark for this hotel to be well poised and thus consolidate its position in the Parque das Nações neighbourhood. This will be a different offering compared to TRYP Oriente Hotel, also under our management, and which will reopen soon following major rehabilitation works and the upgrade to the Meliá brand. These hotels will then become two major providers in this sector for different target audiences, but with great potential for success."