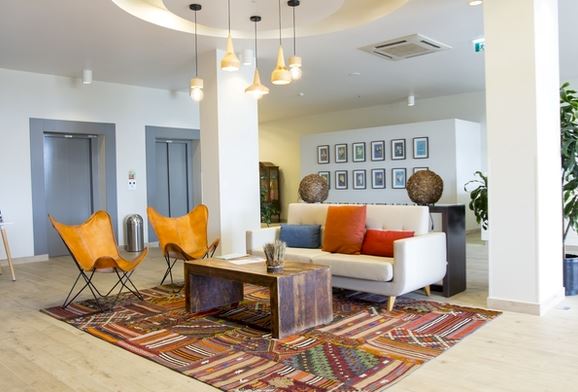 PENICHE WINS A "NEW" HOTEL FOR SURFERS
HOTI HOTEIS GROUP RENOVATES STAR INN PENICHE AND BETS ON LOCAL ARTISTS
Star inn Peniche, the Hoti Hoteis Group "Star Inn" brand's third hotel, is already in the final phase of renovation, now embodying the modern, relaxed and informal facility designed for this space by Miguel Caldeira Proença.
The Hotel, that was already being managed by the hotel group, underwent modifications not only in terms of the brand, that used to be Soleil Peniche, but also in terms of the structure and positioning, its target being Surf, water sports and families, in communion with the environment where it is located.
Due to the high quality and boldness typical of the "Star inn" brand, several features related to the region, that is a real paradise for the practice of Surf, were brought in to the hotel. With fully upgraded and redesigned spaces for surfers, one must highlight the unique technical conditions to host those who practice this sport, such as the rest areas or the lockers to store the surfboards. Besides, the hotel also has a Surf School in its facilities.
This project also aims to give visibility and bring life to the local community, namely local artists. For instance, one of the facades has a mural painted by the artist Wilson Alexandre (known for painting the giant wave on the eastern pier of the Supertubos), which was inspired on an artwork by local artist Antero Anastácio.
On the other façade, surfboards were placed in collaboration with Vulture Surf Boards, a local company that manufactures surfboards. Besides placing the boards, a competition will be held aimed at choosing the best drawings for the surfboards, where once again local artists will be given preference. The 12 best drawings to be selected will be announced and painted on the surfboards of the facade. These surfboards will be on sale inside the hotel by the surf school Special Surf 78, and a percentage of that sale will be allocated to the artists whose drawings won the competition.
According to Miguel Caldeira Proença, Hoti Hoteis Manager and mentor of this project "This change is meant to reflect the city of Peniche's momentum, as it is fully oriented towards sea-related sports. We want our guests to have a pleasant experience, in a relaxed environment with the quality of the "Star inn" brand.
Located at the entrance of Peniche, and overlooking the Cova de Alfarroba Beach, Star inn Peniche is the new modern and affordable solution to those visiting the Peniche region. This hotel has 102 guestrooms, a heated swimming-pool, an outdoor swimming-pool, meeting rooms, a restaurant, a bar, a lounge, a common terrace, a rest area with jacuzzi, a small gymnasium, shower rooms and, as mentioned above, areas to store equipment for outdoor sports.
This hotel follows on from the growth strategy of Hoti Hoteis Group, that plans to invest 110 million euros until the year 2020.